Education
Each year of schooling increases a person's earning by a worldwide average of 10% ~ World Bank.
1,200 people are homeless in Racine County - 40% are children. ~ haloinc.org
One out of three American students scored "below basic" on the 2009 National Assessment of Education Progress (NAEP) Reading Test. Among these low performing students, 49 percent come from low-income families. ~ Annie E. Casey Foundation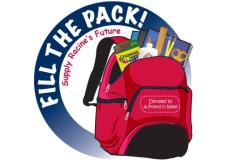 How Can I Help?
By supplying backpacks filled with school supplies, A Friend in Need is giving local students the tools they need for success.
Working directly with shelters and low-income schools, we deliver backpacks filled with school supplies to children who otherwise have nothing
, and encourage them to stay in school and succeed.